Michael Mahoney's Skillet Chicken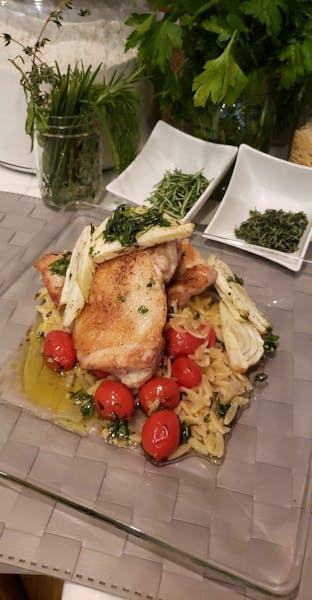 4 ea Chicken Thighs, skin on, boneless
1 ea Lemon, cut in half
1 each Fennel head, ¼ inch strips
1 cup Orzo
2 TBLS Butter
½ ea Yellow Onion, small dice
3 ea Garlic cloves, minced
1 pint Cherry Tomatoes
2 TBLS Thyme, chopped, divided in two
2 TBLS Rosemary, chopped, divided in two
6 TBLS Flat Leaf Parsley, chopped, divided in two
2 TBLS Tarragon, Chopped
2 TBLS Vegetable Oil
4 TBLS Olive oil
To Taste Salt & Pepper
Method:
Pre-heat oven to 450 degrees. Pre-heat 10" cast iron or oven safe skillet.
Season chicken thighs with salt and pepper.
Place chicken skin-side down in very hot skillet. Cook until skin is golden and crispy. Add lemons cut-side down. Flip the chicken and place it in the oven. Cook for approximately 15 minutes, or until the internal temperature reaches 160 degrees Fahrenheit.
Toss fennel with olive oil, salt, and pepper. Place on a foil lined sheet tray and roast in the oven for about 15 minutes, or until tender.
While the chicken is cooking, bring a pot of water to boil. Salt the boiling water and add in the orzo. Cook for approximately 7-8 minutes, or until al dente.
While the orzo and chicken are cooking, heat butter and 1 TBLS olive oil in a sauté pan. Add onions and garlic. Sautee until the color on the onions and garlic start to brown.
Add 1 TBLS each of chopped thyme and rosemary. Add tomatoes. Cook until tomatoes are heated through and slightly begin to soften.
When the orzo is done cooking, strain (reserve about ½ cup of cooking liquid) and add the orzo to the pan. Toss to mix, and adjust sauce with reserved cooking liquid. Season to taste, and garnish with chopped parsley.
Once the chicken is ready, remove from the oven and rest in pan for approximately 5-10 minutes so the chicken can finish cooking to 165 degrees Fahrenheit.
Mix remaining thyme, rosemary, parsley, tarragon into a small mixing bowl. Add in olive oil, lemon juice from charred lemons and season to taste with salt and pepper.
Plating:
Spoon about ½ cup of orzo onto a plate. Top with chicken thigh (skin up), add fennel onto the chicken. Drizzle about 1.5 TBLS salsa verde onto the chicken and around the plate.