Bryan Voltaggio's Pasta Carbonara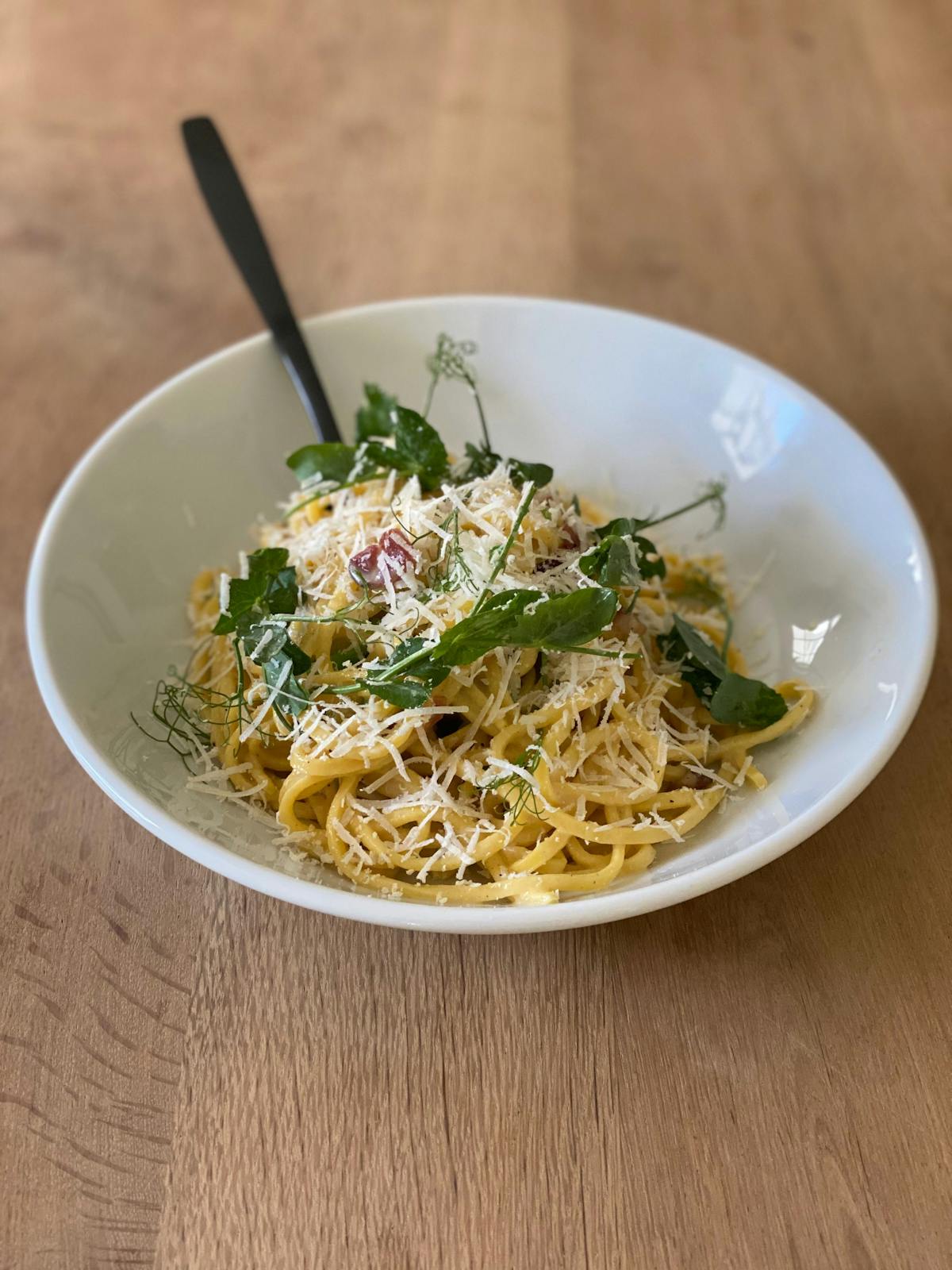 3 large free-range egg yolks
2-3 ounces Parmigiana Reggiano grated, plus extra to serve
4 ounces double smoked bacon, cut into lardons
½ pound dried spaghetti or fresh chitarra (see recipe)
1-2 cloves of garlic
extra virgin olive oil
¼ cup julienne blanched snap peas
¼ cup pea tendrils and leaves
Put the egg yolks into a bowl, finely grate in the cheese with a microplane, season with pepper, then mix well with a fork and put to one side.
Cut any hard skin off the double smoked bacon and set aside, then cut the bacon into lardons.
Cook the spaghetti or chitarra in a large pot of boiling salted water until al dente.
Add olive oil to coat the bottom of a 10" sauté pan then place over a medium-high heat.
Peel the garlic, then crush with a knife, add it to the pan and leave it to flavor the oil for 1 minute. Stir in the bacon, then cook for 4 minutes, or until it starts to crisp up.
Pick out and discard the garlic from the pan, then, reserving some of the cooking water, drain and add the spaghetti. Toss well over the heat so it starts to make the emulsion.
Add a splash of the cooking water and toss well, season with pepper, then pour in the egg mixture the residual heat in the pan will help to cook the egg gently, toss or stir the pasta to make the emulsion, if it seems to be getting thicker, add more pasta water
Season the peas with salt and olive oil, gently toss into the pasta and top with the pea leaves and tendrils.
Serve with more grated cheese and season with extra black pepper.
Fresh pasta Chitarra
350 grams semolina flour "00"
160 grams egg yolks
80 grams whole eggs
2.5 grams whole milk

Using a food processor, add the flour then incorporate the eggs and milk. Using the pulse setting, continue to mix until a ball starts to form. Remove all contents to a work surface and knead the dough until a ball forms.
Place the dough wrapped in the refrigerator for at least 1 hour.
Using a rolling pin roll out sheets of pasta and or if you have a sheeter for a stand mixer, sheet the pasta.
Cut the pasta using the chitarra, I usually cut the sheets into 12" lengths then cut on the chitarra. (you can find a chitarra easily on Amazon)