Main content starts here, tab to start navigating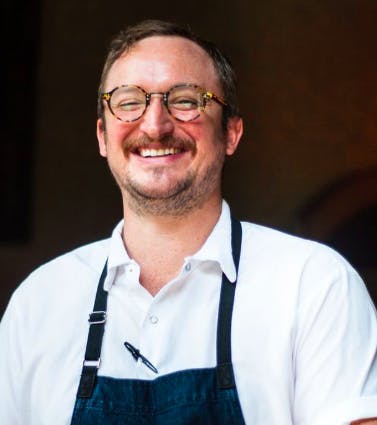 Zach Long
Executive Chef
Charlie Palmer Steak DC
My Hometown: Hagerstown, MD.

Genuine American Hospitality Means: We all have different roles in making sure our guests have a great experience when they walk through the front door. My favorite part of the job I do is when I am asked to create something around some one's special dietary needs. It's exciting to scan through mise en place and create something on the fly knowing it will make them feel nurtured and happy.

Favorite off-duty spot: I have two. Service Bar has an incredibly detail-oriented cocktail program, which is interesting from a culinary standpoint. But it still a very casual atmosphere, always full of DC industry folks, loud and bustling, and really fun for a group outing. For a less hectic vibe and a good place to catch up with a friend over a few drinks, I go to Copy Cat. It has an amazing cocktail program but also amazing Asian snacks like dumplings and steamed buns.
How I Pair It: Krug and fried chicken is pretty good: I'm a sucker for bubbles.