Wagyu Albufera with Truffle Potatoes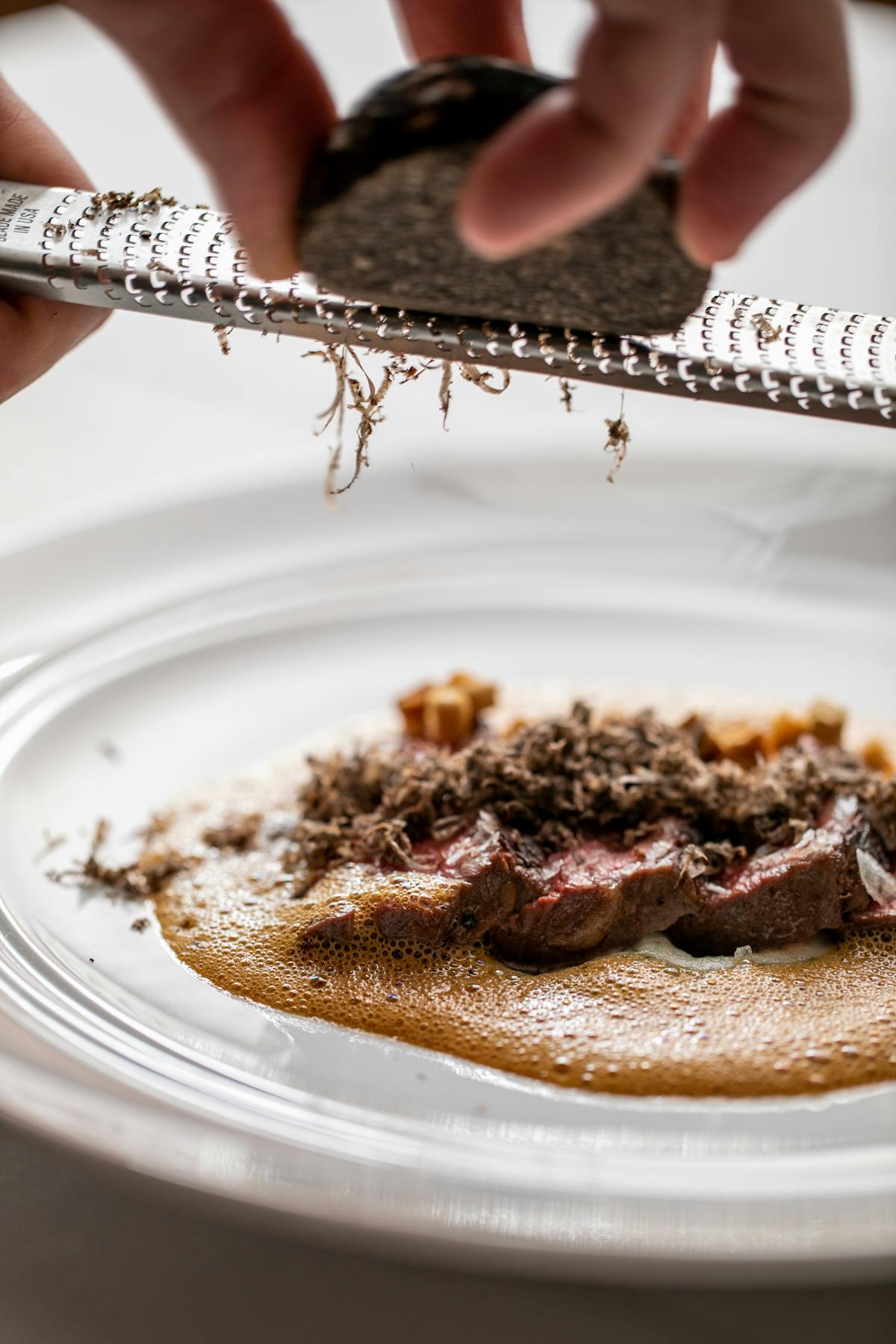 Wagyu Albufera with Truffle Potatoes
Chef Christopher Engel, Aureole NY
Truffle Potato Mousseline
2lb Idaho potato, peeled
1/4 c cold butter
1c hot heavy cream
2T black truffle, finely chopped
1T parsley chiffonade
1) Cut the potatoes into 1' pieces and cover with cold water and 4T of salt.
2) Bring the potatoes to a boil and cook until tender.
3) Strain the potatoes and push through food mill or ricer.
4) Mix into the potatoes heavy cream, butter, black truffle and parsley.
5) Cover with plastic wrap and hold warm.
Wagyu Beef Tenderloin
2, 8oz wagyu beef tenderloin
Salt
pepper
olive oil
¼ c butter
2 rosemary sprigs
3 cloves garlic
1) Heat a sauté pan over medium heat and add the oil.
2) Season the beef with salt and pepper and sear in the oil on both sides.
3) Once the tenderloin is seared transfer to a baking pan lined with a rack and cook in a 350F for 8 minutes.
4) In the same pan used to sear the beef, melt the butter with the rosemary and garlic.
5) After the wagyu is cooked, let it rest for 10 minutes.
6) Just before slicing, brush with the reserved butter.
Sourdough Croutons
Cut the sourdough bread into ¼' X 1/4' pieces. Toss lightly with olive oil and toast until lightly browned and crispy.
Albufera sauce
2c demi-glace
1/4c foie gras terrine
½ tsp smoked paprika powder
2T cognac
1) In a sauce pot over medium-high heat bring the demi-glace to a boil. Add the smoked paprika powder and cognac.
2) Using a hand blender, incorporate the foie gras terrine.
3) Keep the Albufera sauce warm in sauce pot.