Trout in Foil with Lemon-Sage Butter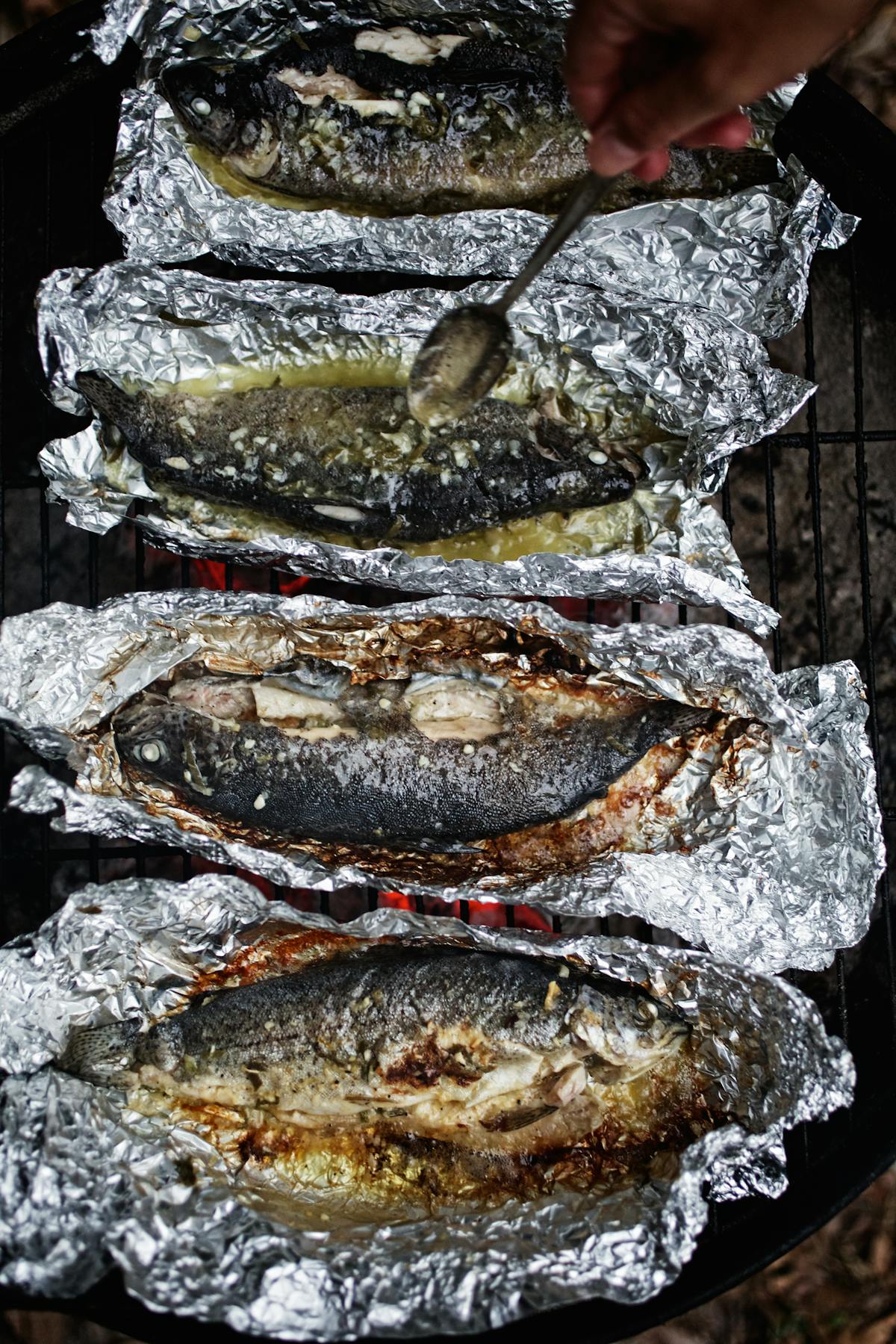 From Remington presents Camp Cooking by Charlie Palmer
Serves 4
Ingredients
4 whole trout, 10 to 12 ounces each, gutted and scaled
8 tablespoons (1 stick) lemon-sage butter (prepared ahead of time)
Method
Rinse the cavities of the fish and dry both the insides and outsides. Cut 4 pieces of foil, leaving 4 inches of excess foil on each end of the fish. With your fingers, spread some butter on the foil. Place the fish in the center of the foil. Fill the cavities with some of the butter, reserving the remaining butter to smear on the outside of the fish. Bring the long sides of the foil up to meet and then fold down in ½ inch sections, leaving some space above the piece of fish for it to steam. Then fold up the ends so the melted butter won't run out all over the place.
Place these individual cooking vessels containing the fish on a grill over low heat and cook slowly for 15 to 20 minutes. Check the fish after 10 minutes and then continuously to gauge the firmness. Larger fish will take up to 25 minutes. The skin should roll away easily from the flesh, and the flesh should flake easily away from the bones.
Open the top of the foil and then, using a spoon, baste the fish with the melted butter a few times. Transfer the entire package to a plate and serve with a mixed green salad on the side and some boiled new potatoes and crunchy French bread to soak up the lemon-sage butter.
Lemon-Sage Butter
makes about 1/2 lb
Ingredients
½ lb unsalted butter, room temperature
¼ cup chopped shallots
1 tablespoon finely grated lemon zest
1 tablespoon fresh lemon juice
2 tablespoon minced fresh sage leaves
½ teaspoon kosher salt
Method
In a mixing bowl, soften the butter, and using a wooden spoon, work the butter until pliable like clay. Add the shallots, the lemon zest, lemon juice, minced fresh sage leaves, and salt and mix until well incorporated. Transfer the butter to a sheet of wax paper, placing it in the center of the edge closest to you. Fold the paper over the butter and roll it into a uniform cylinder, about 1 ½ inches in diameter, and twist the ends to seal. Chill the butter in the refrigerator or freeze for future use.