Thanksgiving Leftovers: Croque Monsieur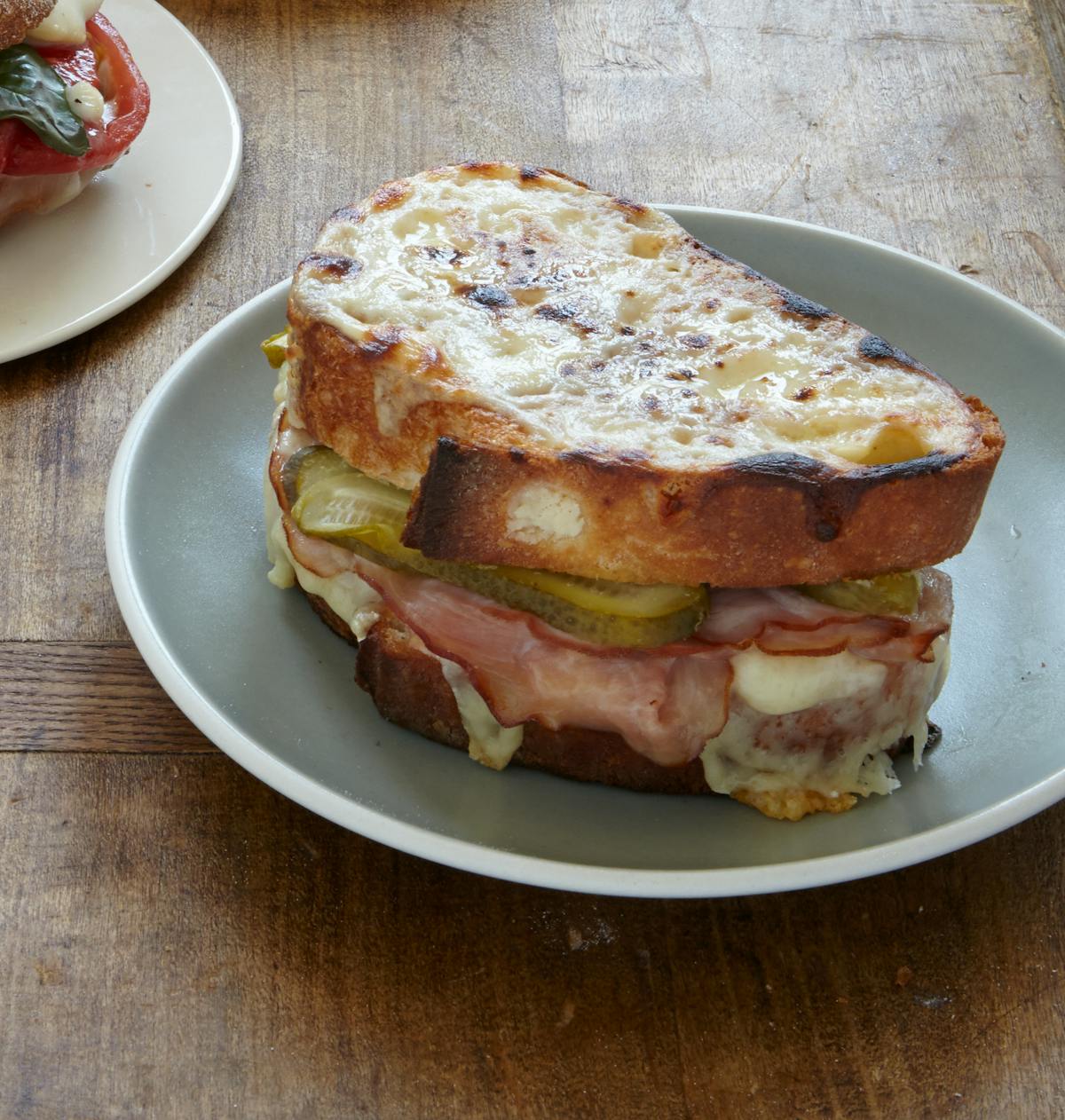 Croque Monsieur
Excerpted from American Fare
Serves 6
Ingredients
12 thick slices rustic bread or home-style white bread
About 3 tablespoons salted butter, at room temperature
¼ cup Dijon mustard (or to taste)
18 slices hard cheese, such as Gruyère, Comté, provolone, mimolette, or aged cheddar
½ cup sliced sour pickles
12 slices fine-quality ham or turkey
Mornay Sauce (recipe follows)
Method
Preheat the oven to 450ºF. Line a baking sheet with parchment paper or a silicone liner.
Generously coat one side of each slice of bread with butter. In batches, place the bread, buttered side down, in a large nonstick frying pan over medium heat. Cook for about 3 minutes or just until the buttered sides are golden brown.
Place 6 of the slices, buttered side down, on the prepared baking sheet and generously coat with mustard. Place 2 slices of cheese on each. Top with a layer of pickles, followed by 2 slices of ham or turkey. Top with another slice of cheese and a second slice of the toasted bread, buttered side up.
Using an offset spatula, spread an equal portion of the Mornay Sauce over the top of each sandwich. Bake for about 10 minutes or until the topping is golden brown and the cheese is bubbling out of the sides.
Cut each sandwich in half on the diagonal and serve.
Mornay Sauce
Makes about 3 cups
Ingredients
2 cups whole milk
¼ cup (½ stick) unsalted butter
¼ cup all-purpose flour
1½ cups shredded hard cheese (traditionally it is Comté or Gruyère, but I suggest you use whatever hard farmstead cheese you like—Gouda-style works well and my sons like cheddar)
Salt
Tabasco sauce
Method
Bring the milk to a simmer in a small saucepan over medium heat. Remove from the heat and keep warm.
Melt the butter in a small saucepan over medium-low heat. When completely melted, add the flour, stirring to blend completely. Do not allow the mixture to color. When completely incorporated, whisk in the reserved warm milk. Whisking constantly, return to the simmer.
Add the cheese and continue to cook, stirring constantly, for about 4 minutes or until the cheese has melted completely and a smooth sauce has formed. Season with salt and Tabasco and set aside to cool for about 30 minutes or until thick enough to spread. (If you want to use this as a sauce in another dish, you may use it immediately.)