Spring Asparagus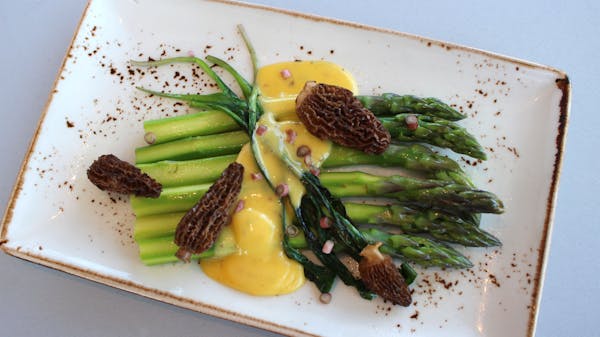 Spring Asparagus with Charred Ramps, Morels and Ramp Hollandaise | Chef Fernando Marulanda, Upper Story by Charlie Palmer
FOR THE ASPARAGUS:
20 Asparagus Stems (choose to your liking Purple, White or Green)
2 Gal. water
1/2 cup of Kosher Salt
Ice bath
1. Get water up to a boil and add the salt.
2. After trimming bottoms from asparagus, submerge in water for about 30 sec. to 1 min.
3. Remove and shock in ice bath to retain its color and texture.
FOR THE RAMPS:
8 Ramp Bulbs with Leaves
1 Tsp Kosher Salt
1 Tsp Olive Oil
1. Clean and rinse ramps and dry.
2. Rub with olive oil and season with salt.
3. Place on a hot grill or cast-iron skillet.
FOR THE MORELS:
16 Morel Cones
1 Tbsp Kosher Salt
1 Tbsp Canola Oil
1. Rinse morels and pat dry. Inspect the inside for any dirt.
2. In a bowl, mix with canola and salt.
3. Lightly sauté in a pan or on a griddle.
FOR THE RAMP HOLLANDAISE:
4 Ramp Bulbs, thinly sliced
1 Tbsp Water
1 Tbsp Lemon Juice
3 Egg Yolks
8-10 oz whole butter
Salt to taste
1. In a saucepan, combine ramps, water, and lemon juice. Cook over medium to low heat until the ramps are soft, but with no darkening or discoloration and liquid is almost completely evaporated.
2. Remove the mixture from the heat, add egg yolks, and whisk vigorously.
3. Return to heat and slowly add butter, one lump at a time.
4. Continue adding butter until sauce is light and frothy.
5. Finish with salt to taste.
6. Reserve in a warm place until ready to use.
BUILD:
Place asparagus on a plate, top with hollandaise and charred ramps, and finish with Morels. Garnish with some diced ramp stems. Then enjoy -- perhaps with a good Rosé or Chardonnay.