SHRIMP BOIL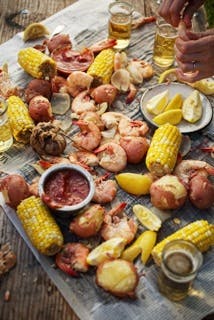 From Remington presents Camp Cooking by Charlie Palmer
Serves 4
Ingredients
4 quarts water
¼ cup Old Bay seasoning
2 bottles beer
1 lemon, quartered
4 ears of corn, shucked and cut crosswise in half
12 red new potatoes
1 onion, peeled and quartered
2 lbs large (21 to 25 count) unpeeled shrimp
Cocktail Sauce
Method
In a medium stockpot over high heat, bring the water, seasoning mix, Old Bay Seasoning, beer, and quartered lemon to a rapid boil. Lower the heat slightl. If you are cooking over a campfire, move the pot to indirect heat, but continue boiling for at least 5 minutes to infuse the water with the herbs and spices; you will smell them.
Add the corn, potatoes, and onion and simmer for 15 minutes, or until the potatoes are fork-tender.
Add the shrimp to the spice-infused boiling water and cook until just tender, about 3 minutes. Using a slotted spoon, remove the shrimp and use whatever method is available to cool them down and stop the cooking process. Use a large strainer, scoop out all of the remaining ingredients from the broth. Serve in a large bowl or directly from a newspaper-lined table, with cocktail sauce on the side. Peel, eat, and repeat.
NOTE: If you're cooking this at your campsite, pre-make your seasonings mix in a spice bag (a small muslin bag available in any kitchen supply store) or use a square of cheesecloth and kitchen twine. Store in a Ziploc bag until ready to use.
COCKTAIL SAUCE
Makes about 1 1/2 cups
Ingredients
One 12-ounce jar Heinz chili sauce
3 tbsp white horseradish, grated fresh or jarred (use more if you are stouthearted)
2 tbsp Worcestershire sauce
Method
Combine ingredients in a small mixing bowl. Refrigerate until ready to use, and serve cold.
SEASONING MIX
Ingredients
3 bay leaves
1 tsp whole black peppercorns
1 tbsp plus 1 tsp whole cloves
1 tbsp plus 1 tsp whole allspice
1 tbsp plus 1 tsp whole mustard seeds
¼ tsp red pepper flakes