Pumpkin Spiced Skillet Cake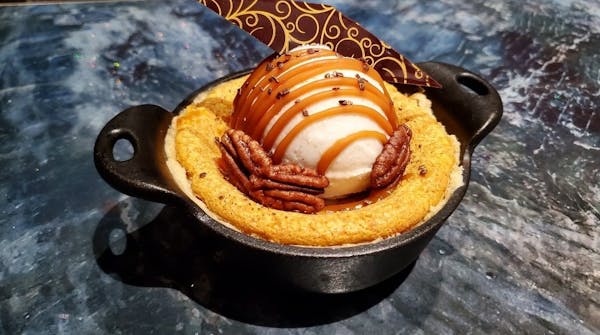 Pumpkin Spiced Skillet Cake | Michael Mahoney, Charlie Palmer Steak Reno
Serves 4-6
Crust:
1 cup All Purpose Flour (4.25 oz.)
¼ cup Cornmeal (1.4 oz.)
¼ tsp Salt
¼ cup Sugar (1.8 oz.)
1 stick + 1 tbsp Cold Butter (4.5 oz.)
Filling:
1 ½ cup cream cheese (12 oz.)
½ cup pumpkin purée (4 oz.)
4 cup powdered sugar, sifted (16 oz.)
4 eggs
2 tsp pumpkin spice
Instructions:
Preheat oven to 325 F
In bowl, mix together flour, cornmeal, salt, & sugar.
Cube cold butter into small chunks.
Using a pastry blender, or your hands, combine butter with dry ingredients until coarse dough is formed.
Press the dough into a thin layer in 4-6 pre-seasoned individual cast iron skillets.
Bake dough for 7 minutes.
While crusts are cooling, prepare your filling.
In a mixing bowl, cream pumpkin puree, sugar, & cream cheese with the paddle attachment on low-medium speed.
Scrape the bottom of the bowl to ensure ingredients are evenly incorporated.
Gradually add powdered sugar into your cream cheese mixture.
Once sugar is incorporated, add eggs, then pumpkin spice.
Pour batter evenly into crusts. Bake 30-40 minutes. When the cake is done, it should bounce back from the touch of your fingers, but the inside will still be gooey.
Equipment:
Stand Mixer w/paddle attachment
Cast Iron Skillets 8-10 oz. each
Rubber Spatula