Praline Bars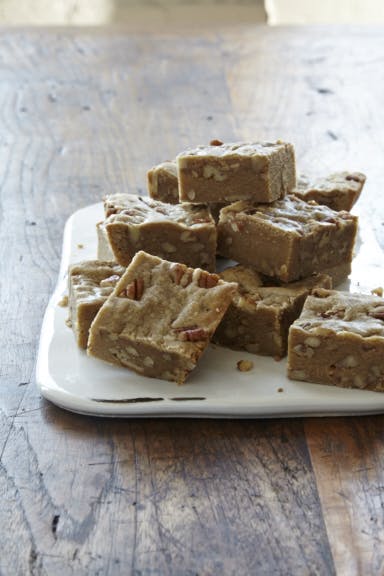 Excerpted from Charlie Palmer's American Fare
Makes about 3 dozen
Ingredients
½ cup (1 stick) unsalted butter, at room temperature
1 ½ cups tightly packed brown sugar
1 large egg, at room temperature
1 teaspoon pure vanilla extract
1 ½ cups sifted all-purpose flour
1 ½ cups chopped pecans
Method
Preheat the oven to 325°F. Lightly spray the interior of an 8-inch square baking pan with nonstick cooking spray.
Combine the butter and sugar in the bowl of a heavy-duty electric mixer fitted with the paddle. Beat on low to blend, then raise the speed to medium and beat for about 4 minutes or until very light. Beat in the egg and vanilla.
Slowly add the flour and beat, scraping down the sides of the bowl from time to time, until completely blended.
Remove the bowl from the mixer and, using a wooden spoon, beat in the pecans. (If you do this with the mixer, the nuts will pulverize.)
Scrape the dough into the prepared pan and smooth the top with a spatula. Bake for about 25 minutes or until golden brown and set. Place on a wire rack to cool.
When cool, cut into squares. Store, tightly covered in layers, at room temperature for up to 1 week.