Poached Eggs in Chickpea and Sausage Stew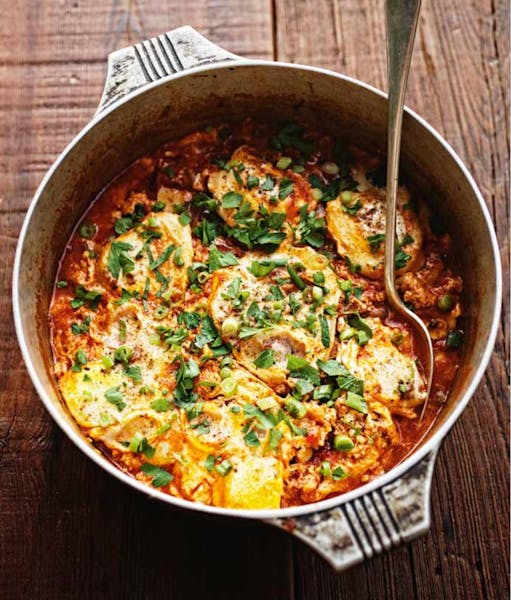 Ingredients
FIRST
2 Tablespoons olive oil, plus extra as needed
12 ounces hot Italian sausage (about 3 links), casings removed
6 garlic cloves, thinly sliced
1 large onion, quartered and sliced
2 teaspoons smoked paprika, plus extra as needed
Kosher salt and freshly ground black pepper
One 26-ounce can chopped tomatoes, with their liquid
4 roasted red bell peppers, cored, seeded, and chopped (about 2 cups)
One 15-ounce can chickpeas, surface liquid poured off
1 bay leaf
3 sprigs fresh thyme
11⁄2 cups water
THEN
8 extra-large eggs
2 scallions, green and white sections, thinly sliced
1⁄4 cup coarsely chopped fresh flat-leaf parsley
serves 4
Method
FIRST
In a Dutch oven, heat the olive oil over medium heat. Pinch off small amounts of sausage and drop onto bottom of the pot in a single layer. As sausage begins to brown on bottom, stir and continue to cook until it is well-colored on all sides. (Add more olive oil sparingly if sausage sticks to pot.) Stir in garlic and onions with paprika, and a pinch of salt and pepper. Cook until onions begin to wilt, about 5 minutes. Add remaining FIRST ingredients simmer, adjusting seasonings. Cover and simmer until flavors infuse sauce, about 30 minutes. Discard the bay leaf.
THEN
Crack eggs over stew. Season with a bit more salt, pepper, and smoked paprika, and add a drizzle of olive oil. Cover and continue to simmer until whites have set but yolks are still soft, 12 to 14 minutes. Sprinkle scallions and parsley over top and serve. Shallow bowls and a big hunk of toasted country-style bread are great.
From Remington presents Camp Cooking by Charlie Palmer
---
How I Pair It
Chef Michael Ferraro
Director of Culinary Concepts, Charlie Palmer Collective
2016 Ruffino Ducale Chianti Classico Riserva. This dish screams hearty Italian comfort food and to me there's no better pairing for a spicy Italian sausage than a good Chianti.
Lindsey Geddes
Master Sommelier, Charlie Palmer Steak Las Vegas
7Five Brewing "Dawn Breaker" Lager. Made here in Las Vegas, it is a crisp golden lager with a light touch of hops that will help kick start the spicy & hearty breakfast dish.
Clay and Carrie Mauritson
Mauritson Winery
Clay's Choice: Bear Republic "El Oso" Amber Lager. El Oso is an Amber Lager and made much in the style of its brethren South of the Border! There's a reason why most traditional Mexican beers are Lagers, they balance the heat of spicy dishes. El Oso is crisp and refreshing, yet adds a hint of richness!
Carrie's Choice: 2017 Mauritson Rockpile "Rockpile Ridge Vineyard" Zinfandel. There is no better wine to pair with a tomato-based spicy dish than Zinfandel. The Rockpile Ridge Vineyard Zin has just enough earthen spice to accent the dish, but the wine's natural acid and structure are what truly complete the pairing!
Daryl and Lisa Groom
Groom Wines
Daryl's Choice: Smog City Brewing Co. Coffee Porter. This robust porter using local fresh ground coffee is a gorgeous dark beer with a light body that will match wonderfully with the complex flavors of the dish and coffee and eggs is a daily must.
Lisa's Choice: 2018 DRG Daryl Groom Barossa Valley Zinfandel/Shiraz. This recipe with the hot sausage and spices calls for a spicy wine to match. Best reds for that are zinfandel and shiraz. Better still a unique one-of-a-kind blend of the two.