Grilled Vegetables with Chimichurri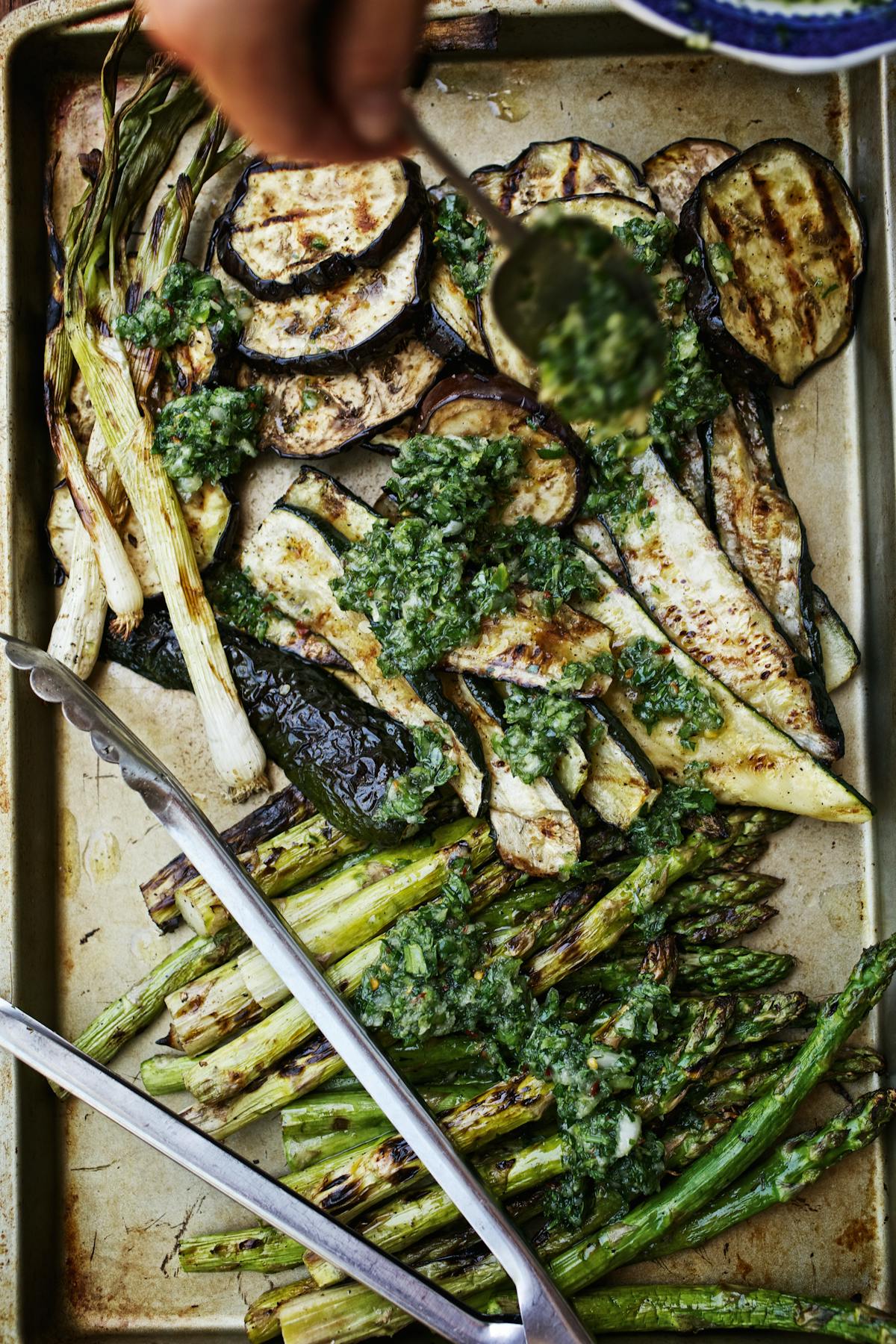 From Remington presents Camp Cooking by Charlie Palmer
Serves 4 as a side dish
Ingredients
16 large, thick asparagus spears, trimmed
3 medium zucchini, ends trimmed, cut lengthwise into 1/4-inch-thick planks
1 bunch green onions, root-end fibers trimmed
1 medium eggplant, stem and bottom end trimmed, cut into 1/2-inch rounds
Vegetable oil, for brushing
Kosher salt and freshly ground black pepper
Chimichurri
Method
Lightly brush the vegetables with oil and season with salt and pepper. Working in batches, grill the vegetables over hot coals until slightly charred, turning them once. Grill 8 to 10 minutes for asparagus and eggplant, and 6 to 8 minutes for zucchini and green onions, placing the onions so that the lower white portions (and not the delicate green tops) are over the hottest part of the fire. Arrange on a platter, pour the chimichurri over the vegetables, and serve.
Chimichurri
Makes 4 cups
Ingredients
1 white onion, coarsely chopped
2 garlic cloves, smashed
1 jalapeño pepper, halved lengthwise, seeded, chopped
Pinch of crushed red chili flakes
2 teaspoons kosher salt
½ cup white-wine vinegar (or enough to just cover onions)
1 bunch fresh flat-leaf parsley, coarsely chopped
½ bunch fresh oregano, leaves picked (½ cup)
1½ cups olive oil
Method
Place the onion, garlic, jalapeño, chili flakes, and salt in a food processor and pulse until all of the ingredients are finely chopped but still have texture. Transfer to a sealable container and mix in the vinegar.
Add the parsley and oregano to the bowl of a food processor fitted with the metal blade and pulse to finely chop. Transfer to a small bowl and mix in the olive oil, then pour the herb oil over the vinegar and onion mixture, seal, and refrigerate.
As they infuse in the oil, the herbs will stay separated on top of the vinegar, which keeps them green, while the onion, garlic, and jalapeño macerate below. To serve, stir together and use liberally.