Asparagus With Grapefruit and Yogurt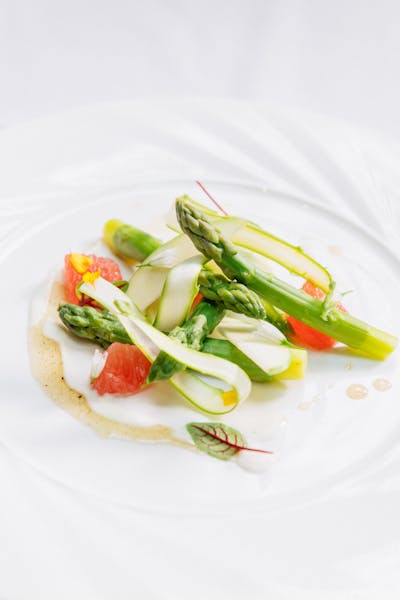 Asparagus With Grapefruit and Yogurt | Chef Timothy Meyers, Charlie Palmer Steak NY
Makes 4 salads
Ingredients:
1 Bunch Asparagus
½ Cup Greek Yogurt
½ Cup Olive Oil
1 Lemon, cut in half 2 Tablespoons Honey
1 Vanilla Bean, split and scraped
1 Granny Smith Apple
1 Grapefruit
1 Cup Arugula or Watercress
FOR THE ASPARAGUS: Cut the top third of the asparagus off. Save the bottoms for another dish, such as soup. Fill a medium sized saucepot with water, add a few tablespoons of salt, and then put the pot on high to bring to a boil.
Empty a tray of ice into a small metal bowl. Add water up to the top of the ice. Carefully place the tops of the asparagus in the boiling water and cook until just tender, about 3 minutes. Carefully take the asparagus out with a slotted spoon and put directly into the ice water to stop the cooking and to keep the bright green color!
FOR THE YOGURT SAUCE: Put the yogurt in a small bowl and add 2 tablespoons of olive oil, the juice from one half of lemon, and 1 teaspoon of kosher salt. Whisk it all together until it becomes uniform. Keep chilled.
FOR THE VANILLA HONEY: Using a rubber spatula, gently combine the honey and the scrapings from the vanilla bean in a small bowl. Keep at room temperature.
FOR THE FRUIT: Cut the top and bottom of the grapefruit off so that the pink flesh inside is just barely visible. Starting from the top, cut off the peel and pith, following the natural curve of the grapefruit. Now use a paring knife to cut out each section of grapefruit, leaving the membrane between them behind. Cut all your segments in half. Now, slice all four sides off your Granny Smith apple, leaving all of the core behind. Slice each piece thinly.
TO PLATE THE SALAD: In a medium sized bowl, place the asparagus, apple slices, and grapefruit. Squeeze the remaining half lemon into the bowl, add 2 tablespoons of olive oil, and a pinch of salt sprinkled from a few feet above the bowl to allow even distribution. Gently toss or stir the contents of the bowl just until everything is coated. Divide the contents of the bowl evenly between 4 plates. Drizzle roughly 1 tablespoon of yogurt sauce over top. Then drizzle roughly 1 tablespoon of vanilla honey over that. Garnish with as much or as little spicy arugula or watercress as you like. Drizzle the remaining olive oil on top and serve.