Reno Grilled Peach Salad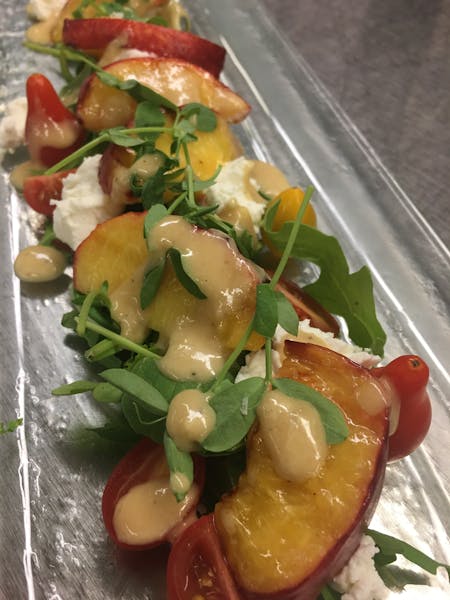 Grilled Peach, Baby Arugula, Goats Cheese, Roasted Shallot Dressing
Serves 4 People
Ingredients:
2 Ripe Peaches
6oz Cleaned Baby Arugula
1 Cup Assorted Cherry Tomatoes
1 Cup Crumbled Goats Cheese
1 Cup Roasted Shallot Dressing
Pea Tendrils to Garnish
Dressing
2 Large Shallots Peeled
2 Cloves of Garlic
½ Cup Olive Oil
2 Tbs. Balsamic Vinegar
1 lemon Juiced Squeezed
Salt+Pepper
Shallot Dressing
1. Preheat oven to 375F. Place the shallots and garlic in some tin foil.
2. Drizzle with olive oil and season.
3. Pinch the tin foil so that it encloses the shallots.
4. Roast the shallots and garlic until they are soft, around 40-50min.
5. Place in a food processor, add the vinegar, lemon juice and blend together. Slowly incorporate the olive oil until it starts to bind.
6. If it gets too thick too quickly, just add a tsp. of hot water.
7. Check consistency and seasoning then serve.
Final Preparation
1. Cut the peaches into wedges, toss them with a little olive oil and mark them on the grill, do not overcook them or they will become mushy, they still need to be a little firm.
2. Toss the tomatoes and arugula in a little of the dressing, and plate as shown.
3. Place the peaches on the plate and then crumble the goat's cheese around. Drizzle with the dressing and garnish with the pea tendrils.