Buttermilk Biscuit Eggs Benedict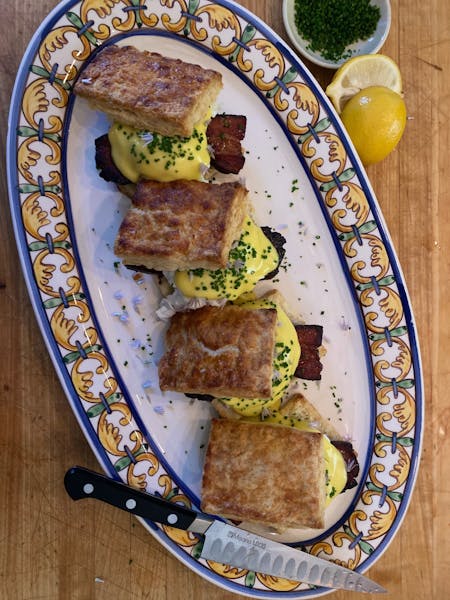 Buttermilk Biscuits:
2.5 tsp baking powder
2 tsp kosher salt
2 tsp sugar
1/4 tsp baking soda
3.5 cups all purpose flour, plus more for surface
1 cup (2 sticks) chilled unsalted butter, cut into 1/2-inch pieces, plus more for brushing
1 cup chilled buttermilk
- Preheat oven to 425 degrees
- Pulse baking powder, salt, sugar, baking soda, and 31/2 cups flour in a food processor to combine.
- Add chilled butter and and pulse until largest pieces are penny-sized.
- Transfer to a large bowl and gradually drizzle buttermilk over top. Knead mixture a few times in bowl until a dry dough forms.
- Turn dough on a clean surface and pat into a 1-in thick square
- Cut dough into four pieces. Stack pieces on top of one another, sandwiching any loose dry bits of dough between layers, and press down to flatten.
- Lift up dough with bench scraper and dust surface with flour. Roll dough into a 1in. thick rectangle. Trim a thin border around the sides to create clean edges.
- Cut into a 4x3 grid to make 12 biscuits. Transfer to a parchment-lined baking sheet, spacing 2 inches apart. Freeze 10 minutes.
- Brush top of biscuits with melted butter and place in oven. Reduce temperature to 400 degrees and bake until golden on top, 20-25 mins.
4 1/2inch-thick x 4in -long cuts of slap bacon
8 fresh eggs (3 for hollandaise yolks)
1/4 cup lemon juice
4 oz butter
2 T fresh chives
S&P
For bacon:
Line a baking sheet with tin foil and lay bacon slabs across
Roast at 325 degrees for 10-15 min, or cooked to your liking
Drain bacon on a double layer paper towel
For Poached Eggs:
(Poach eggs last once bacon, biscuits, and hollandaise are ready)
In a wide pot, fill up to 1.5-2 inches of water with 1 T distilled white vinegar. Heat to a simmer
Crack eggs individually one at a time into a small bowl
Lightly swirl the water and pour one egg into the middle of the pot
Do not swirl the water any further to prevent break the yolk. Cook for 3.5-4 mins
When cooked, remove eggs from pot and rest gently on a paper towel to drain
For Eggs Benedict:
Slice biscuits in half. Top halved biscuits with bacon, followed by the poached egg. Top with 2 T of hollandaise, chopped chives, and lean the top half of the biscuit against it.