Banana Bread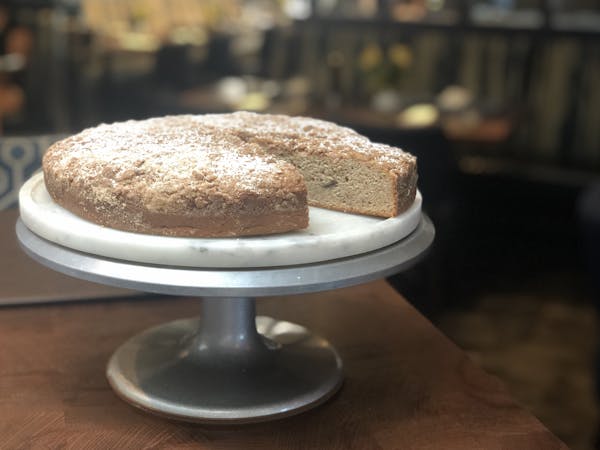 Banana Bread | Andrea Soldini, Charlie Palmer Steak NY
Ingredients:
Banana Bread
1 lb banana, ripe (approximately 4 bananas)
1 cup sugar in the raw
½ cup unsalted butter, softened
2 tbsp honey
1.5 tsp vanilla extract
½ tsp ground cinnamon
2 eggs
2 cup AP flour
1 tsp baking soda
¼ salt
2 tbsp low-fat sour cream
Topping
6 tbsp unsalted butter, cold and diced
1 tbsp ground cinnamon
1 cup sugar in the raw
1 cup AP flour
Powdered sugar to garnish
Instructions:
Preheat your oven to 350 degrees Fahrenheit. Sift all the dry ingredients and set aside. Place the butter and sugar in the mixer and whisk until white. Then add honey, vanilla extract, ground cinnamon, eggs, ripe banana, sour cream and whisk until everything is incorporated. Now add the dry ingredients and whisk until smooth. Be careful not to over mix.
For the topping, mix all the ingredients together and work through with your hands until the mixture is crumbly.
Coat your bread mold (approximately 13" in diameter x 2.5" high) in butter and pour in the banana bread mix. Spread the crumbly topping evenly. Place the mold in the middle rack of your pre-heated oven for approximately 35-40 minutes.* Once golden brown, remove and let cool. Sprinkle a dusting of powdered sugar before presenting.
*Please note, this time is based on using a convection oven.